Who We Are and What We Offer
We are the members of the Charles River Tennis Club. The membership manages, operates and maintains the club on a not-for-profit basis. We encourage you to read on to learn more about this special clay-court facility and our unique approach to enjoying tennis.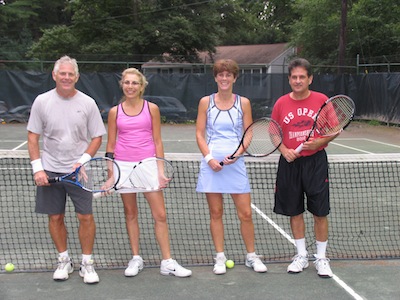 The Charles River Tennis Club provides play primarily for adults (we offer no lessons and have no provisions for child care) on four green clay courts located in a wooded, residential area near the Charles River in Medway, MA. Two of the courts are under lights to enable night play. When weather permits, the club is open seven days a week from mid-April to mid-October. Club hours are from 8:30am to 10pm. For the health and comfort of all, smoking is not allowed anywhere on the club grounds.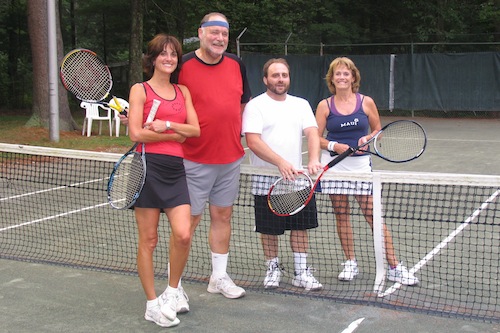 Our chief amenity results from the venue, an attractive, peaceful and sheltered site for playing tennis. Other amenities include outdoor tables, chairs, a tent shelter, plus a small clubhouse with a few tennis essentials, as well as rest rooms for men and women. Although the courts are maintained by the club on a daily basis, all individual members are expected to sweep the court and clean its lines after their play period is complete.
Club activities (in addition to privately arranged matches) include a variety of singles and doubles leagues, occasional weekend tournaments, and round-robin play on Tuesdays, Thursdays, and both weekend mornings.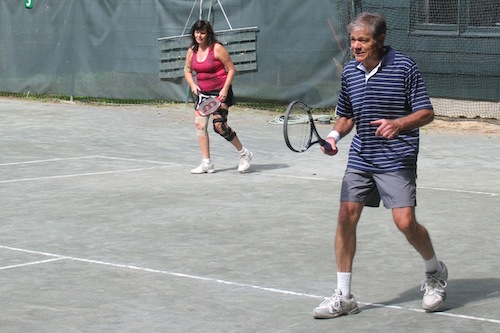 Saturday and Sunday mornings are purposely left unscheduled to allow all comers to be involved in pick-up matches on a rotational basis. During all these periods, members attempt to accommodate the new arrivals and involve them in the play as soon as possible.
Members also get together at the beginning and end of the playing season for work parties to open and close the club, as well as for a family picnic towards the end of the summer. During the winter off-season, the club sponsors periodic indoor tennis socials.
In all these ways, club membership offers low-cost access to high quality and competitive tennis with congenial friends - all in an atmosphere where we can control our own destiny.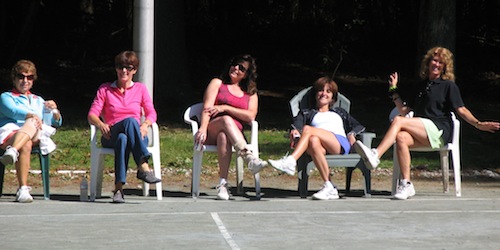 We encourage you to contact the club and arrange a visit, and we look forward to welcoming you to join us as members. For the location of and directions to the Charles River Tennis Club, please click on the following link: Directions.
Visit and try out the courts during Open House in May. Check home page for dates & times.